Ambulatory & Emergency Services
At this time, B-Line is exclusively mobile, so it's convenient and available to all clients in an extended area surrounding the Sunset/Opelousas area. We are fully equipped to bring our services out to your farm when you need us.

Horses don't always choose the most convenient times to become ill or injured. That's why we offer 24-hour emergency services for all our active clients in good standing.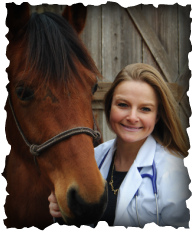 General Health & Preventative Care

B-Line Equine is dedicated to client education and preventative medicine, to keep your horse happy & healthy into his golden years.

Routine health care is available, including vaccinations, deworming, Coggin's testing, health certificates, castrations, and annual dental exams with floating as needed & according to your horse's individual needs.

---








Foal Care
We provide a variety of neonatal services whether it be diagnostics, internal medicine, or supportive care.
Rhodococcus plasma is also available for administration.





---

Reproduction
Mare and stallion reproductive services are available, including semen collection & evaluation, ultrasound-assisted mare palpations, artificial insemination... and whatever else it takes to get her bred!


---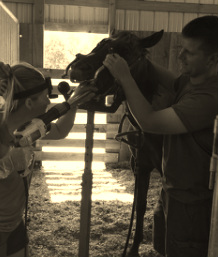 Dentistry
We are seeing horses live well into their 30s nowadays, and a major reason for that is routine dental care. With today's advanced dental techniques and equipment, B-Line reduces procedural time and minimizes or eliminates trauma to the horse, thus making it an easier experience for all. Horses are sedated for their safety and comfort, and a full mouth speculum is used in order to examine the entire mouth.
The goal of routine dental care is to identify small problems before they become big problems, and to keep the mouth in balance and pain free, so that the horse can chew efficiently and comfortably. Exams should be done every 6 months to a year, or if your horse is displaying signs that there might be a problem orally. For the average horse, yearly teeth floating is sufficient, however some may need theirs done more often.

---
Diagnostic Imaging
B-Line is equipped with the latest in diagnostic imaging, including a digital, direct capture radiography system. This system allows for on-the-farm radiographs (X-rays), with immediate results, allowing us to immediately begin to outline and implement a treatment plan. We also offer diagnostic ultrasound for use in tendon and ligament imaging as well as reproductive ultrasound scans.